Gate Repair Services
Back To Our Services
"Garage Door Repair Whitestone" is full of surprises. Many customers don't know that our garage door company is also a great gate service provider. We have technicians with specialized knowledge for each case and can assure you of their efficiency. This way, people, who have both garage doors and gates, can find what they need in terms of services under one roof. Our roof! We are expert contractors and can assist you for both systems and for either of them. Our skills are tremendous either way and you can be sure that our company is always here to help you in any way possible.
Try out our gate services today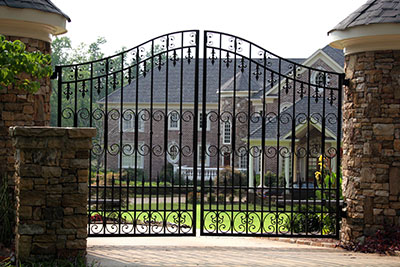 Your rolling or swing gate will last longer and be functional thanks to our services. There is nothing our technicians cannot do. We are here to repair, install, replace and maintain them and our professionalism is guaranteed every time. These are a few of the things that we do.
Gate clicker and keypad services
Whether you activate the opener with a clicker or keypad, you can trust our services. We install and program them with precision and we will help you understand exactly how they work especially if there is an intercom system installed, too. If you lose the remote or there are keypad problems, trust our company for replacement and repair services.
Gate opener maintenance
As expert teams in all residential gate openers, we offer great maintenance service. We make the difference because we carefully inspect every part of the opener system emphasizing on the sensors and the motor. Any problem with any of the parts is fixed right way.
Gate phone entry system installation
Trust our company for intercom installation even if you have decided to get one of the most high tech phone entry systems in the market for your gated community or house. We are familiar with all of them, follow their evolution and know everything about their technology. We don't simply make excellent intercom installers but also service providers.
Gate sensors replacement
We replace the sliding gate safety sensors as soon as we are notified about their damage. Our first goal is to attempt fixing their problems but if the damage is beyond repair, we instantly proceed with the replacement in accordance with UL 325 regulations.
Gate adjustment
When fasteners are loose, parts or the entire gate lose balance. Parts are misaligned and you will probably have an issue with the electric gate not closing well. When balance is lost due to rusty fasteners, they will be replaced. In a different case, swing gate hinges and all bolts will be tightened.
Due to their exposure to elements, gates will constantly need maintenance and repairs. The more they are maintained, the longer they will last and serve you better! This is the basic rule and the reason why Garage Door Repair Whitestone has a large number of technical teams for all services. We make sure that the problems our clients face are solved as soon as possible. We have the capacity to offer exceptional maintenance but also emergency services 24/7. Trust our company today! Email us your problems!