Garage Door Service
Back To Our Services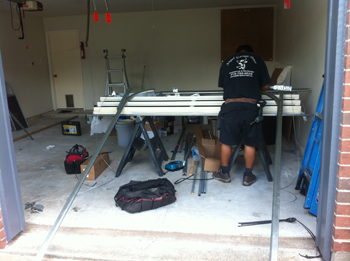 What is the most important thing in any relationship? The most important thing is trust. If you want to be a successful garage door company like our Garage Door Repair Whitestone; then you have to earn the trust of your community. This is not done over night; it takes many hours of outstanding, reliable and dependable garage door service. Our garage door contractor is proud to say that we have earned the trust of the residents in Whitestone with the variety of garage door services we offer.
Our great garage door service begins with our broken spring repair/replacement service. We carry both the torsion springs and extension springs in both regular and galvanized garage door springs. The galvanized springs have a special coating that makes them more durable and enables them to last for many decades. The torsion is comes in a pair and are mounted at the door center. The extension come in pairs and is mounted on the outside of the doors. These are very dangerous and you should always rely on a pro to repair, replace or install garage door springs. Our techs are standing by for your safety.
At Whitestone Garage Door Repair we offer a garage door opener service beyond compare. We exceed our customer's expectations with brand names that are out of this world like:
Sears garage door opener
Craftsman garage door opener
Chamberlain garage door opener
Liftmaster garage door opener
Marantec garage door opener
Genie garage door opener
If you are not sure what is wrong with your old opener but want to find out our garage door opener troubleshooting service is just the thing. In addition, if you get an opener you get to choose the type of drive you want in it. The chain drive is cheaper but you may need to wear earplugs. The belt drive is quieter but you may have to take out a second mortgage to get it. Just kidding about the mortgage of course but they do cost more. The screw drive is somewhere in between the other two.
Every garage door needs our regularly maintenance lubrication program offered through our garage door maintenance & adjustments service. Every part will be properly lubricated and every screw will be adjusted properly. Loose screws and parts that are not properly lubricated can wreck havoc on your garage door system. You can pay a few dollars now or take out a loan for the repairs later.
We are pretty proud of our garage door remote service. You won't find better garage door remotebrand names anywhere in Whitestone. We have Liftmaster Security Plus, Genie Intellicode, Clicker and Multi Code. Rolling code technology is used in the liftmaster and genie products. You won't find anyone who can repair, replace or install these garage door remote systems than our techs at our garage door company/contractor in Whitestone.
To meet our customers expectations we have to offer a solid garage door replacement & installationservice. Part of meeting those expectations is providing a wide choice of garage doors and garage door windows for them to choose from. There are so many different styles and such a variety of designs that we are confident our customers will find one they love. We offer a variety of door materials as well like wood garage doors, steel garage doors, aluminum garage doors, craftsman garage doors, and glass garage doors. Don't play with garage doors; they can be dangerous; allow our garage door techs to take the risk for you.
At Whitestone Garage Door Repair we carry outstanding glass garage doors. These doors are designed to provide a look of modern class and unique curb appeal as well. These doors are forged with aluminum alloy frames and provide you the benefit of sunshine to warm and light your garage.
Customer complete satisfaction is our primary job description
Garage door repairs are what our business is all about. It is about being there when your customer needs you and that is why we offer our 24/7 emergency garage door repair service and same day service as well. Our garage door company/contractor in Whitestone puts their money where their mouth is with these excellent services. You have a door off track we can put it back on. Is your broken emergency release worrying you? Well we can fix it or replace it in the same day. We can replace section of garage door or install a new weather strip. In addition, we will provide that bottom garage door rubber. If you have a garage door repair related problem our techs will offer solutions whenever you need it.
Garage door cables & tracks have presented problems for garage door owners for decades. Fortunately our garage door techs have the experience to resolve these issues the same day. So if thatcable snapped give us a call. If you notice the cable loose give us a call. If that cable came off the drum; call us and we will have it back on in a flash. We will replace garage track fast because we keep plenty on our truck. We can repair bent garage door track just as fast. If you find broken cable just give us a ring and let our professionals deliver excellence for you.